MXM1206
120PPM A3 B&W Light Production MFD with DSPF
From walk-up office environments and corporate data centers to high-volume CRD and copy rooms, Sharp's MXM1206 High-Speed & Light Production B&W Series provides advanced technology and features that will streamline your document workflow like never before. With standard networking and flexible configurations, this high-volume workhorse is a perfect fit where productivity and reliability are essential.
A large 15.4" (diagonally measured) high-resolution, touch-screen display offers real-time scan preview with intuitive flick-and-tap editing to help ensure your documents are produced accurately and without waste. With the optional Fiery® MXPE16 print server supporting full integration of Command Workstation at the operation panel, job management has never been easier.
POA
Enhanced Reliability
The MXM1206 is built for durability and easy maintenance. It features smart built-in systems and options that prevent paper mis-feeds and improve paper travel. These help to minimise downtime and improve productivity.
High Productivity
The MX-M1206's print engine handles large-volume jobs with ease. It offers outstanding productivity, thanks to its large paper capacity, high-speed DSPF, and handy finishing options. You can also pair the MXM1206 with a Fiery® print server for industry-leading print.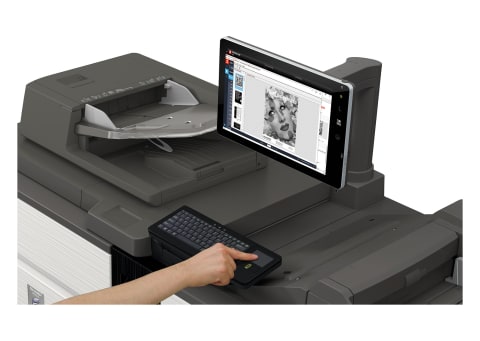 Smooth Operation
Thanks to its large 15.4-inch LCD control panel and user-friendly UI, the MXM1206 is easy and intuitive to operate. Features like the optional QWERTY keyboard and touch pad put powerful functionality in the hands of every office user.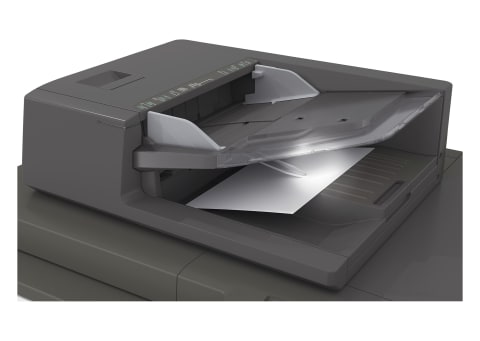 Duplex Single Pass Feeder
With Skewed Sheet Detection sensors that detect images that are not fed in straight and the Multi-Feed Detection that stops when two or more originals are fed at once, this 300-sheet DSPF can scan up to 240 opm (originals per minute; two-sided).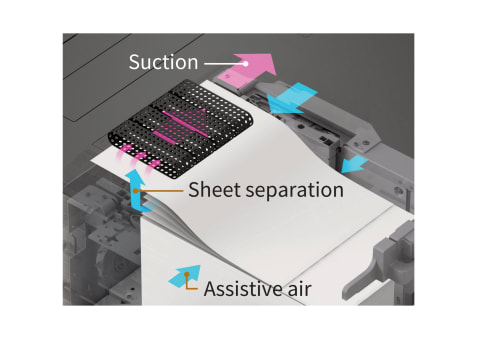 Air-Feed System
For smooth paper handling and travel, an air feed system on the optional MXLC13N Large Capacity Trays minimises paper jams and the feeding of more than one sheet at a time when using various media types.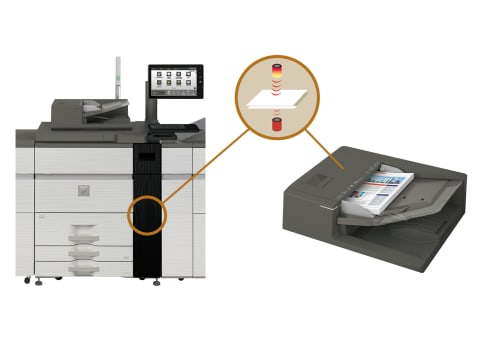 Multi-Feed Detection System
A precision engineered Multi-Feed Detection System on the MXM1206 employs ultrasonic technology to detect misfeeds in the DSPF and the paper feed section of the paper trays.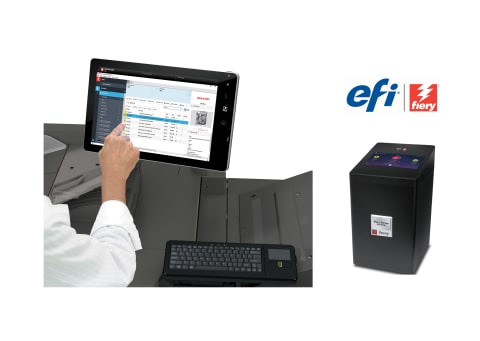 Fiery® Server for Outstanding Quality and Efficiency
The optional MXPE16 Fiery Server offers a centralised solution that features the award-winning Command WorkStation with an industry-standard print job management user interface. It's intuitively easy to preview jobs, check their progress, and do reprints. Command WorkStation is also fully integrated at the MFD's control panel, allowing you to monitor, control, and troubleshoot production directly from the MFD touchscreen.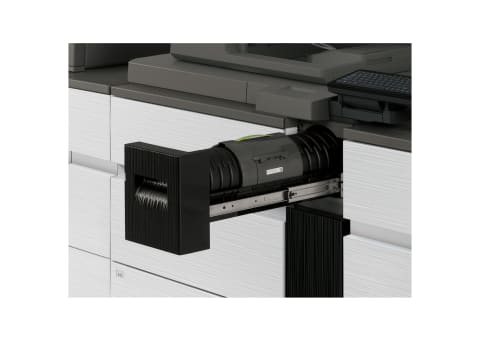 Intermediate Toner Hopper for Continuous Runs
Thanks to an intermediate toner hopper, there's no need to stop the MXM1206 during large volume copy/print jobs when the toner cartridge needs changing. The MXM1206 can use toner from the toner hopper to continue printing while the empty toner cartridge is replaced with a new one.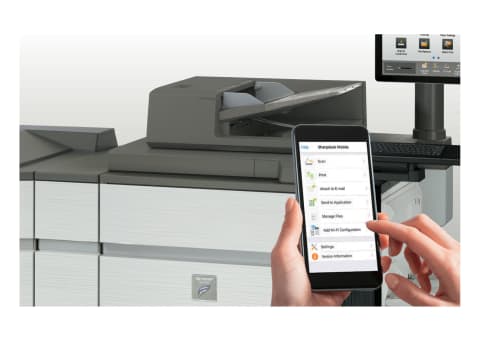 Easy Connection
Use single sign-on for easy access to a variety of cloud services. You can directly print data stored in the cloud or upload scanned data there for later printing. The MXM1206 also supports a popular mobile printing technology.
Original Size

Max A3

Operation Panel

Colour 15.4" LCD Touch-Screen

Product Environment

Light production and Department

Printed Paper Size

Tray: A3W-A5R, Opt Bypass: A3W-A5R [MX-MFX1] or SRA3-A5R [MX-MF11]

Standard Paper Capacity

3,100 (1200-sheets, 800 sheets, 500 sheets x 2, 100-sheet Multi bypass)

Maximum Paper Capacity

13,500 (1200 + 800 sheets, 500 sheet x 2, 500 sheet bypass, 2500 sheet x 4 LCT)

Output Capacity

Optional Finisher is required

Warm-up Time

200 sec or less (via Power Button)

Resolution (Output)

Print: 1,200 x 1,200 dpi, 600 x 600 dpi, 9,600 (equivalent) x 600 dpi (depending on copy mode)

HDD Capacity

1TB

Duplex

Std. (60 - 256 g/m2)

Dimensions (WxDxH)

1,099 x 775 x 1,529 millimetre

Weight

276 kilogram

Sharp OSA

5.5 (Opt: MXAMX2 and/or MXAMX3 required)
E-Sort / SOPM

Yes / Yes

First Copy Time (OC)

3.2 Sec

Continuous Copy

Max 9,999

Scan Resolution

600 x 600 dpi, 600 x 400 dpi, 600 x 300 dpi

Zoom Range

25 - 400% (DSPF 25 - 200%) in 1% increments
Power Consumption

Max. 2.99 kW

TEC Value (Weekly)

16.2 kWh
Document Feeder

Std. DSPF

Original Capacity

Max 300 sheets (80 g/m2)

Scan Speed (Max)

120 opm (1-sided), 240 opm (2-sided)

Double Feed Detection

Standard
Quick/Main Folder

Quick Folder: Max 10,000 pages, Main/Custom Folder: Max 35,000 pages or 5,000 files

Preview Thumbnails

Supported (includes Advanced Edit Mode)
Print Speed (Max)

B/W: 120 ppm (A4), 54 ppm (A3)

PDL (Emulation)

STD: PCL6, Adobe® PostScript®3

Interface

USB2.0, 10Base-T / 100Base-TX / 1000BaseT

Fiery Controller

Optional MXPE16 (external controller)

Supported OS

Windows® 8.1, Windows® 10, Windows® 11, Windows Server® 2012(R2), Windows Server® 2016, Windows Server® 2019, Windows Server® 2022, Mac OS 10.10 to 10.15, 11 & 12

Utility Software (Download)

Status Monitor

Sharpdesk Mobile

Not Supported

Airprint Support

Supported
User Registration

1,000

User Registration

Max 2,000 registrations (Max. 500 addresses for one Group Key)

Utility Software (Download)

None
Requirement

Optional MXAMX2 is required

Cloud Connectors

Microsoft® One Drive® for Business, Microsoft® SharePoint® Online, Google Drive™, Box™ & Dropbox™

Email Connectors

Microsoft® Exchange (Online) & Google Gmail™

Sharp Application Cloud Portal

Supported
Facsimile Model

Not Supported
Business Products Warranty Statement
For purchases from 1st November 2022, this Sharp product is warranted against faults in material and manufacture for 12 months.
In the event of any defect arising in the equipment during the warranty period, such repairs should only be carried out by the Dealer from which the unit was originally purchased or a Service Centre approved by Sharp to service this type of equipment These repairs would be carried out at no charge to the owner, subject to the conditions specified herein.
This warranty does not extend to defects or injuries caused by or resulting from causes not attributable to faulty parts or the manufacture of the product, including but not limited to, defect or injury caused by or resulting from misuse, abuse, neglect, lack of maintenance, accidental damage, improper voltage, liquid spillage, vermin infestation, software, or any alterations made to the product which are not authorised by Sharp.
Please retain your sales documentation, as this should be produced to validate a warranty claim. This warranty is in addition to and in no way limits, varies or excludes any implied rights and remedies under any relevant legislation in the country of sale.
Goods presented for repair may be replaced by refurbished goods of the same type rather than being repaired. Refurbished parts may be used to repair the goods. The repair of your goods may result in the loss of user generated data, please ensure that you have saved this data elsewhere prior to repair.
Australian Customers
Our goods come with guarantees that cannot be excluded under the Australian Consumer Law. You are entitled to a replacement or refund for a major failure and for compensation for any other reasonably foreseeable loss or damage. You are also entitled to have the goods repaired or replaced if the goods fail to be of acceptable quality and the failure does not amount to a major failure. The criteria of a major failure is defined in the Australian Consumer Law. Should you require any assistance with a major failure please contact Sharp Customer Care.