MX8090N
(Discontinued) 80PPM A3 Colour Light Production MFD with DSPF
Discontinued
The MX8090N is built for fast, high-volume printing in large-scale settings. Whether at a large company, government office, university, or research centre, it produces beautiful colour documents with ease.
Refined Sharp MFD technology delivers an optimal balance of productivity, quality, and user-friendly operation and a powerful Fiery® printer server option adds further versatility to the MX8090N that can already handle a wide variety of documents.
POA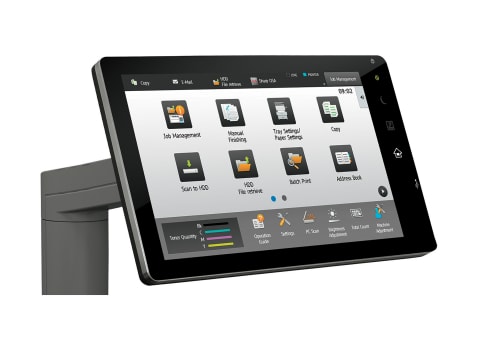 15-4-Inch Colour LCD Touchscreen
Sharp's award-winning, customisable touchscreen display incorporates an Easy UI mode, for fast, simple operation, with basic functions displayed in large, clearly labelled tiles and keys. And with the MX-PE13 Fiery Controller, Command WorkStation is fully integrated at the MFD control panel.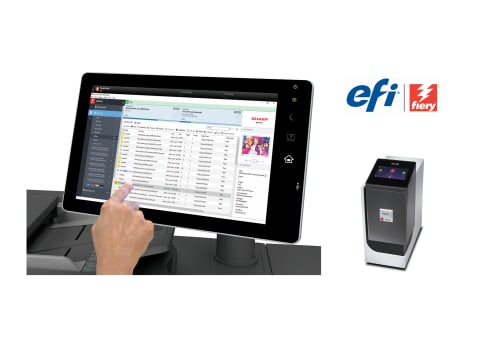 Fiery® Print Server
Paired with an industry-leading EFI™ Fiery print server, this Sharp MFP becomes a powerful integrated solution for managing professional in-plant and busy on-demand printing environments. Two Fiery print server options are available to match your needs.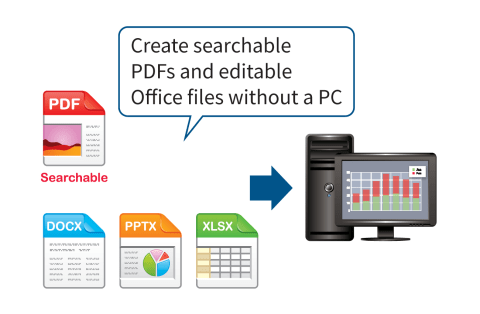 Convert Documents via OCR
With standard OCR capabilities, users can easily scan and convert documents to popular file formats including Microsoft Word, PowerPoint and Excel, as well as Searchable PDF & Encrypted PDF. Using Qualcomm DirectOffice technology, you can directly print these same file types from USB thumb drives, cloud applications and mobile devices.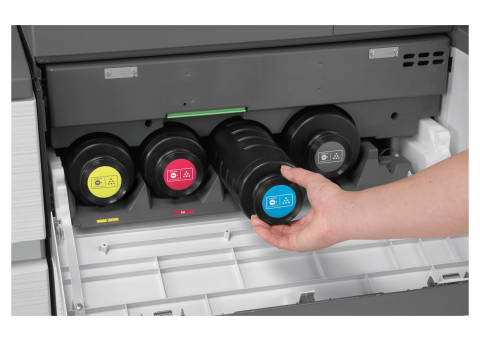 Intermediate Toner Hopper for Continuous Runs
Thanks to an intermediate toner hopper, there's no need to stop the MFD during large volume copy/print jobs when the toner cartridge needs changing. The MX7090N & MX8090N series can use toner from the toner hopper to continue printing while the empty toner cartridge is replaced with a new one.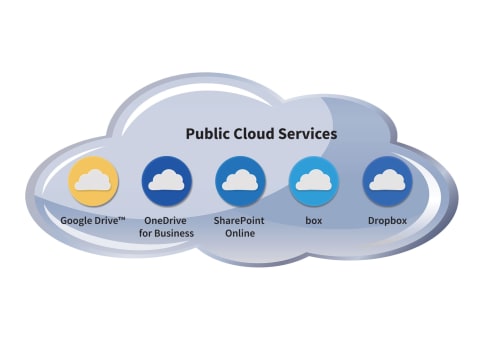 Cloud Services *
Access popular cloud services such as Microsoft® OneDrive™ for Business, SharePoint® Online, Google Drive™ , Box and Dropbox with Sharp's Cloud Connectors. And with Sharp's Application Portal, administrators can add or update apps directly via the MFP operation panel. *MXAMX2 required.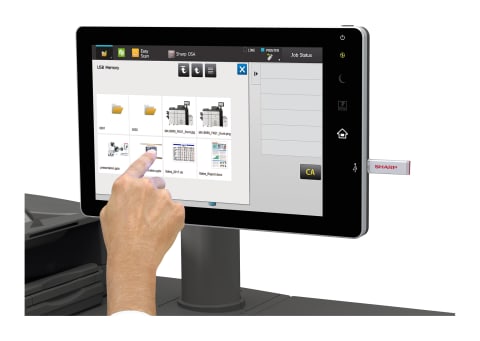 Direct Printing/Scanning with USB Drives
Insert a USB drive and a print/scan command screen will automatically pop up on the LCD. Right away you can print files from the USB drive — or you can scan documents directly to the USB drive.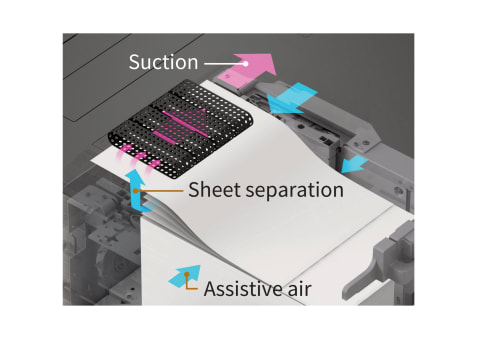 Air-Feed System
For smooth paper handling and travel, an air feed system on the optional MXLC13N Large Capacity Trays minimises paper jams and the feeding of more than one sheet at a time when using various media types.
Multi-Feed Detection System
A precision-engineered Multi-Feed Detection System employs ultrasonic technology and separation rollers for double-fed paper to detect and prevent misfeeds from the paper feed section for maximum uptime.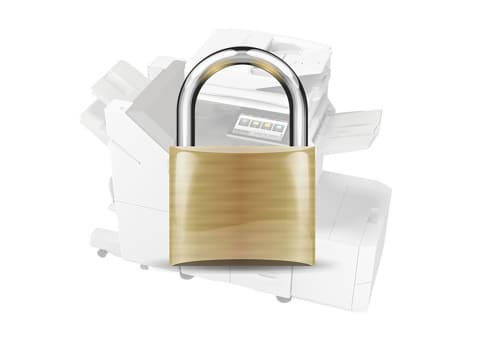 Multi-Layered Security
Multi-layered, leading-edge security features provide enhanced protection and help businesses stay one step ahead of hackers and malicious network intruders. Manage your print security and protect your confidential information whether it is being printed, copied, scanned, faxed, stored, or shared over your network. The standard End-of-Lease feature can also erase all data and personal information at trade-in time.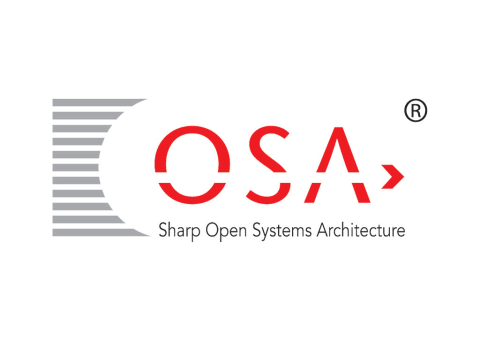 Sharp OSA®
Sharp OSA® technology can help businesses enhance productivity, reduce costs, and simplify IT management. Utilising industry-standard protocols, Sharp MFPs can easily integrate with third-party applications directly from the operation panel. Using secure and scalable communications, Sharp OSA cloud-ready technology further expands flexibility in how the document workflow and security solutions are implemented.
Original Size

Max A3

Operation Panel

Colour 15.4" LCD Touch-Screen

Product Environment

Light production and Department

Printed Paper Size

Tray: A3W-A5R, Opt: Bypass: 13" x 19.2"& SRA3 -A5R [MX-MF10]

Standard Paper Capacity

3,100 (1200-sheets, 800 sheets, 500 sheets x 2, 100-sheet Multi bypass)

Maximum Paper Capacity

13,500 (1200 + 800 sheets, 500 sheets x 2, 500 sheet bypass, 2,500 sheets x 4 LCT)

Paper Weight

Tray 1 & 2: 60-105gsm, Tray 3 & 4: 60-220gsm, LCC: 60-220gsm, LCT (Air): 55-300gsm, Bypass Tray: 55-300gsm [MX-MF10], 55-220gsm [MX-MF11]

Output Capacity

Optional MXTU14 250-sheet centre tray or Finisher is required, additional MXTR14 100-sheet right tray

Warm-up Time

90 Sec

Resolution (Output)

9,600 (equivalent) x 600 dpi (Colour Copy), 1200x1200 dpi (B/W Copy), 1200 x 1200 dpi ( Printer )

Memory

6 GB (STD & Max)

HDD Capacity

1TB

Duplex

Std. (60 – 300 g/m2)

Dimensions (WxDxH)

982 x 768 x 1,530 millimetre

Weight

224 kilogram

Sharp OSA

5.1
Copy Speed

80 ppm (A4), 45 ppm (A3), 43 ppm (SRA3)

E-Sort / SOPM

Yes / Yes

First Copy Time (OC)

B/W: 3.7sec, Col 5.1sec

Continuous Copy

Max 9,999

Scan Resolution

Colour: 600 x 600 dpi, B/W: 600 x 400 dpi, 600 x 600 dpi

Zoom Range

25 - 400% (DSPF 25 - 200%) in 1% increments
Power Consumption

Max. 3.84 kW

TEC Value (Weekly)

8.8 kWh

Noise (Measured)

Standby: 52dB, Operating: 78dB
Document Feeder

Std. DSPF

Original Capacity

Max 150 Sheets

First Copy Time

Colour: 8.8 sec, B/W: 6.3 sec

Scan Speed (Max)

Copy/Image Send Mode: 100 opm (1-sided), 200 opm (2-sided).
Quick/Main Folder

Quick Folder: Max 10,000 pages, Main/Custom Folder: Max 35,000 pages or 5,000 files

Preview Thumbnails

Supported (includes Advanced Edit Mode)
PDL (Emulation)

STD: PCL6 emulation, Adobe® PostScript® 3™

Interface

USB2.0, 10Base-T / 100Base-TX / 1000BaseT

Wireless LAN

N/A

Protocol

TCP/IP (IPv4, IPv6)

Supported OS

Windows® 8.1, Windows® 10, Windows® 11, Windows Server® 2012(R2), Windows Server® 2016, Windows Server® 2019, Windows Server® 2022, Mac OS 10.10 to 10.15, 11 & 12

Utility Software (Download)

Status Monitor

Sharpdesk Mobile

Not Supported

Airprint Support

Not Supported

Pantone Support

Supported
Resolution

Push scan: 100, 150, 200, 300, 400, 600 dpi; Pull scan 75, 100, 150, 200, 300, 400, 600 dpi (50 to 9,600 dpi via user setting)

Format

Mono: TIFF, XPS, PDF, PDF/A, Encrypted PDF, Searchable PDF, Office Format (docx, xlsx, pptx), TXT, RTF & UTF-8. Colour: TIFF, JPEG, XPS, PDF, PDF/A, Encrypted PDF, Searchable PDF, Compact PDF, Office Format (docx, xlsx, pptx), TXT, RTF & UTF-8.

Destination

E-Mail, FTP Server, Network Folder (SMB), USB drive, HDD (local)

User Registration

Max 2,000 registrations (Max. 500 addresses for one Group Key)

Utility Software (Download)

None
Facsimile Model

Not Supported
Business Products Warranty Statement
For purchases from 1st November 2022, this Sharp product is warranted against faults in material and manufacture for 12 months.
In the event of any defect arising in the equipment during the warranty period, such repairs should only be carried out by the Dealer from which the unit was originally purchased or a Service Centre approved by Sharp to service this type of equipment These repairs would be carried out at no charge to the owner, subject to the conditions specified herein.
This warranty does not extend to defects or injuries caused by or resulting from causes not attributable to faulty parts or the manufacture of the product, including but not limited to, defect or injury caused by or resulting from misuse, abuse, neglect, lack of maintenance, accidental damage, improper voltage, liquid spillage, vermin infestation, software, or any alterations made to the product which are not authorised by Sharp.
Please retain your sales documentation, as this should be produced to validate a warranty claim. This warranty is in addition to and in no way limits, varies or excludes any implied rights and remedies under any relevant legislation in the country of sale.
Goods presented for repair may be replaced by refurbished goods of the same type rather than being repaired. Refurbished parts may be used to repair the goods. The repair of your goods may result in the loss of user generated data, please ensure that you have saved this data elsewhere prior to repair.
Australian Customers
Our goods come with guarantees that cannot be excluded under the Australian Consumer Law. You are entitled to a replacement or refund for a major failure and for compensation for any other reasonably foreseeable loss or damage. You are also entitled to have the goods repaired or replaced if the goods fail to be of acceptable quality and the failure does not amount to a major failure. The criteria of a major failure is defined in the Australian Consumer Law. Should you require any assistance with a major failure please contact Sharp Customer Care.